Jumanji: The Next Level (2019) Streaming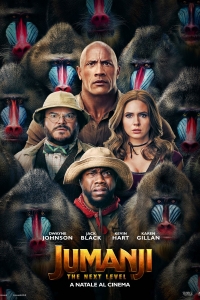 Titolo originale:
Jumanji: The Next Level
GENERE:
Avventura / Azione / Novità al Cinema
ATTORI:
Dwayne Johnson
,
Jack Black
,
Kevin Hart
,
Karen Gillan
,
Danny Glover
,
Danny De Vito
,
Nick Jonas
,
Madison Iseman
,
Awkwafina
,
Colin Hanks
,
Alex Wolff
,
Dania Ramirez
,
Rhys Darby
,
Dean Russo
TRAMA Jumanji: The Next Level (2019)
In segreto, Spencer ha tenuto i pezzi del videogioco Jumanji, e un giorno ha riparato il sistema nel seminterrato della casa di suo nonno. Quando arrivano Bethany, Fridge e Martha, non lo trovano e con il videogioco in corso decidono di rientrare in Jumanji per salvarlo. Il nonno di Spencer e il suo amico Milo Walker sentono il trambusto proveniente dal seminterrato e vengono risucchiati anche loro nel gioco. Il gruppo deve aiutare Eddie e Milo ad abituarsi ai propri avatar e convincerli a ritrovare Spencer e Bethany, sperduti in un nuovo livello di Jumanji.
Jumanji: The Next Level (2019) Streaming ITA