The Very Excellent Mr. Dundee (2020) Streaming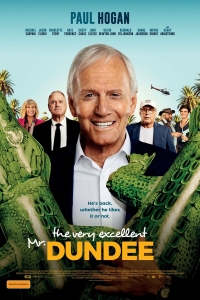 Titolo originale:
The Very Excellent Mr. Dundee
GENERE:
Commedia / Novità al Cinema
ATTORI:
Paul Hogan
,
John Cleese
,
Chevy Chase
,
Rachael Carpani
,
Jacob Elordi
,
Luke Hemsworth
,
Luke Bracey
,
Costas Mandylor
,
Olivia Newton John
,
Reginald VelJohnson
,
Shane Jacobson
,
Wayne Knight
,
Kerry Armstrong
TRAMA The Very Excellent Mr. Dundee (2020)
The Very Excellent Mr Dundee, film diretto da Dean Murphy, racconta la storia di Paul Hogan, l'attore noto ai più per aver dato forma e carisma al personaggio di Crocodile Dundee, cacciatore di coccodrilli nelle selvagge savane dell'Australia.
L'interprete sta per ricevere un importante riconoscimento, la nomina di Cavaliere, ricevuta per il suo contributo al mondo del cinema e dello spettacolo. Ma Paul non è ancora pronto a tornare a essere illuminato dalle luci della ribalta, soprattutto a causa della sua reputazione in declino. Ha sei settimane per provare a riscattare il suo nome e tornare a essere una star...
The Very Excellent Mr. Dundee (2020) Streaming ITA