Killers of the Flower Moon (2023) Streaming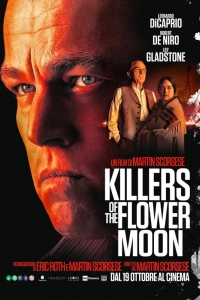 Titolo originale:
Killers of the Flower Moon
GENERE:
Drammatico / Novità al Cinema
ATTORI:
Leonardo DiCaprio
,
Robert De Niro
,
Jesse Plemons
,
Tantoo Cardinal
,
Cara Jade Myers
,
Janae Collins
,
Jillian Dion
,
William Belleau
,
Lily Gladstone
,
Jason Isbell
,
Louis Cancelmi
,
Scott Shepherd
,
Sturgill Simpson
,
Gary Basaraba
,
Michael Abbott Jr.
,
David Born
TRAMA Killers of the Flower Moon (2023)
Oklahoma, primi anni Venti. Ernest Burkhart ha combattuto in guerra e torna nella nativa Fairfax in cerca di fortuna. Suo zio William Hale gli ha promesso un lavoro all'interno della Nazione Indiana degli Osage, che sono diventati improvvisamente ricchi perché sul terreno "risarcito" loro dagli yankee - perché sembrava infruttuoso - è comparso il petrolio in grandi quantità. Su consiglio dello zio, Ernest sposa una donna nativo-americana, Molly, in parte perché spera di appropriarsi delle sue ricchezze, in parte perché ne è davvero innamorato.
Nella Nazione Indiana gli Osage si stanno ammalando e muoiono uno dietro l'altro di una strana "consunzione", o di quella malinconia che i conquistatori sono ben contenti di far loro affogare nell'alcool. Quelle morti sono strategiche e stanno avvenendo anche nella famiglia di Molly. E la cittadina di Fairfax è piena di disperati pronti a commettere omicidi, furti e rapine, sapendo che la legge chiuderà un occhio su chi prende di mira i "pellerossa".
Killers of the Flower Moon (2023) Streaming ITA