Don't Look at the Demon (2023) Streaming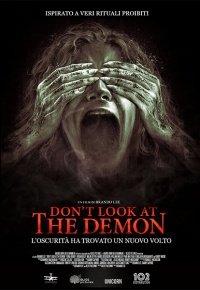 Titolo originale:
Don't Look at the Demon
GENERE:
Horror / Thriller / Novità al Cinema
TRAMA Don't Look at the Demon (2023)
La troupe di un programma televisivo dedicato al paranormale, The Skeleton Crew, si trova in Malesia alla ricerca di nuove storie da proporre al suo pubblico. La sensitiva Jules è la star. Con lei il fidanzato produttore Matty, i cameramen Ben e Wolf, fratelli, e la guida locale Annie. Tra le proposte ricevute via e-mail, Jules seleziona quella dei coniugi Ian e Martha, che abitano in una casa isolata dove, secondo loro, succedono strane cose. Sulle prime, Jules è poco convinta: non percepisce nulla e comincia a pensare che in quella casa non ci sia niente di anomalo. Ben presto, però, si rende conto d'essersi sbagliata e che in realtà proprio lì vi sono presenze spettrali molto potenti e pericolose.
Don't Look at the Demon (2023) Streaming ITA