The Domestics (2018) Streaming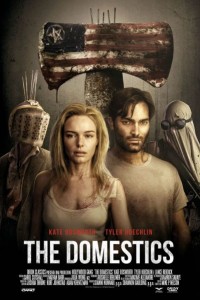 Titolo originale:
The Domestics
GENERE:
Horror / Thriller / Novità al Cinema
ATTORI:
Kate Bosworth
,
Tyler Hoechlin
,
Sonoya Mizuno
,
David Dastmalchian
,
Lance Reddick
,
Laura Cayouette
,
Jeff Chase
,
Dana Gourrier
,
Brad Leland
,
Thomas Francis Murphy
,
Lance E. Nichols
TRAMA The Domestics (2018)
In un terrificante mondo post apocalittico abitato da violente gang divise in fazioni, Nina (Kate Bosworth) e Mike (Tyler Hoechlin) viaggiano attraverso il paese, desolato e senza legge, in cerca di salvezza. Dopo il cataclisma pochi sono sopravvissuti, le città sono state abbandonate e i gruppi di superstiti si sono organizzati in bande in lotta tra loro. Ogni fazione rappresenta una specie di "incubo americano" e i loro membri non si fermano davanti a nulla, con il predominio come unico obiettivo. Restare vivi non sarà facile.
The Domestics (2018) Streaming ITA